The most important facts in brief:
4teamwork implements its quality management with the TQMi-Method.

Until now, numerous Excel lists have been maintained, most of which were no longer up to date.

With ELIZA almost all Excel lists could be replaced with a modern, easy to use web application

The result of the change to ELIZA as a QM system was a successful monitoring audit as well as a much easier maintenance of the data.

ELIZA AG offers a free workshop in which ELIZA is tailored to your company. After the workshop, ELIZA can be tested for 60 days without obligation.
At the beginning of November the annual surveillance audit ISO 9001:2015 was due at 4teamwork AG. The ISO certification forms the basis for the quality management of the 34 woman and man strong Bernese IT service provider.
Introduction of ELIZA at 4teamwork](/assets/img/ELIZA-4teamwork-Moodpicture.jpg)
Implementation of TQMi
The management system of 4teamwork is implemented with the TQMi-Methodology. This proven management system provides all the necessary tools to meet the ISO 9001 standard. ELIZA supports the mapping of such a management system according to TQMi.
From Word and Excel to ELIZA
Until now, almost all documents have been maintained using Word, Excel or PowerPoint. This maintenance was very time-consuming, as dozens of Office documents had to be updated with every change of personnel. It also meant that certain documents were no longer up to date because their updating was forgotten.
In summer 4teamwork set up its own management system with the new software ELIZA. In the process, many Excel tables and Word documents were replaced with the practical database functions of ELIZA.
Now the whole area of organisation & HR can be maintained in ELIZA. In addition to the classic functions such as employee list, birthday list or service anniversaries, the entire organizational structure can now be displayed. The organizational chart is created automatically from the entered assignments.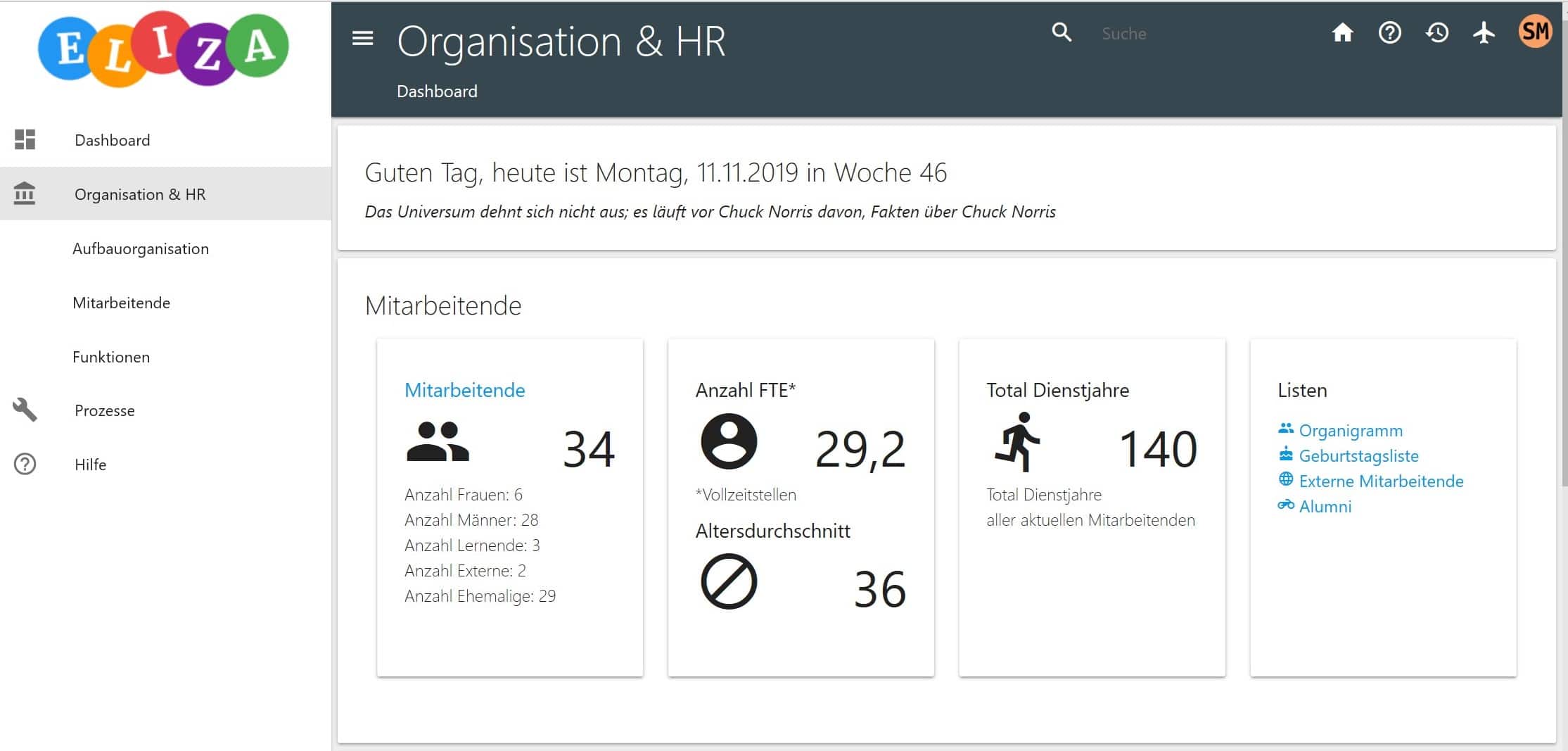 Integrated professional development management ensures clarity and transparency
Another important function is the management of training and further education. In the past, this was managed in an Excel list. Today, all current, planned or completed training courses can be centrally managed in ELIZA with the help of a database. In this way, supervisors can see at a glance which training courses have been attended by each employee and can include this information in the planning of further training during staff appraisals. Employees can view the training courses in their personal user account in ELIZA. ELIZA also calculates the total amount invested per year in further training and the amount per employee.
ELIZA is a great help in personnel administration. All data can now be managed centrally are and are linked with each other. This gives me more time to take care of the essential things.
Monique Porta, Backoffice & HR 4teamwork AG
Centrally manage processes, key figures, risks and opportunities
With ELIZA, all relevant information per process can now be managed and maintained at a single location.
Process owners, process description, tools, assigned opportunities and risks as well as key figures can be recorded and tracked for each process. This makes it easier for employees to find up-to-date information and managers can find out about the current status of measures or key figures.
Optimal integration into the business administration OneGov GEVER
At ELIZA, the appropriate dossiers from OneGov GEVER can be linked almost everywhere. Changes made to documents are thus directly visible in ELIZA. Employees can also register directly from OneGov GEVER via Single Sign On. In addition, the Look&Feel already corresponds to the new layout, which will be introduced next year at OneGov GEVER as a new frontend.
With ELIZA, all the information in the management system can be directly updated by the corresponding process owners This way the system always remains up-to-date."
Susanne Weber, Quality Manager at 4teamwork
The result: A successfully passed audit
After the transfer of the information, the annual monitoring audit could be approached with a clear conscience and the auditor was enthusiastic about the clarity of ELIZA.
And how can ELIZA facilitate the audits at your company?
To find out, we offer a free workshop in which we will configure ELIZA for your company together with your team. You can then test ELIZA for 60 days without obligation.