ELIZA - the easy to use quality management software from the Swiss cloud.
Running a business without ELIZA is like driving a car without a navigation system.
ELIZA is the indispensable leadership tool for all organisations and teams, regardless of industry and size.
ELIZA connects people with processes: All information about employees, processes, projects or key figures are available at one central location.
ELIZA is mobile and cloud-based: Access ELIZA with your smartphone, tablet or laptop anytime and anywhere.
The management cockpit with integrated quality management.
ELIZA understands your business. With the intelligent QM software you can document business processes better and easier and optimize them sustainably.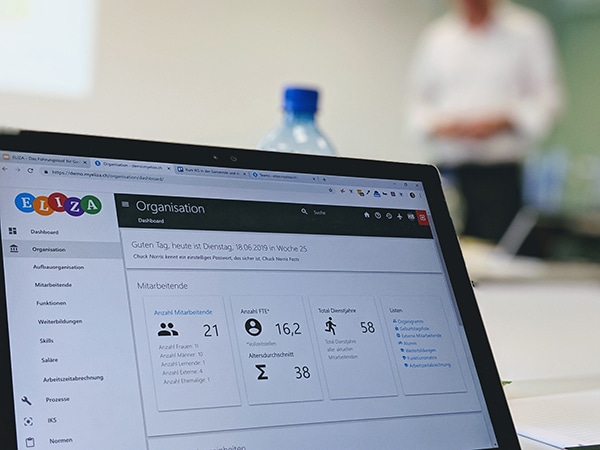 directions_bike
Secure and easy to use.
ElLIZA ist easy to learn and intuitive to use. All information is transmitted encrypted.
wb_incandescent
Intelligently connected.
At ELIZA all information is linked together. ELIZA can draw important conclusions from this and send messages and warnings.
view_module
Modular and lively.
ELIZA adapts to your organisation. The various modules can be activated according to your needs and are perfectly coordinated.
Having fun with process documentation.
ELIZA supports you in the development of your management system. Processes can be documented quickly and easily. All information is presented clearly and is linked to each other.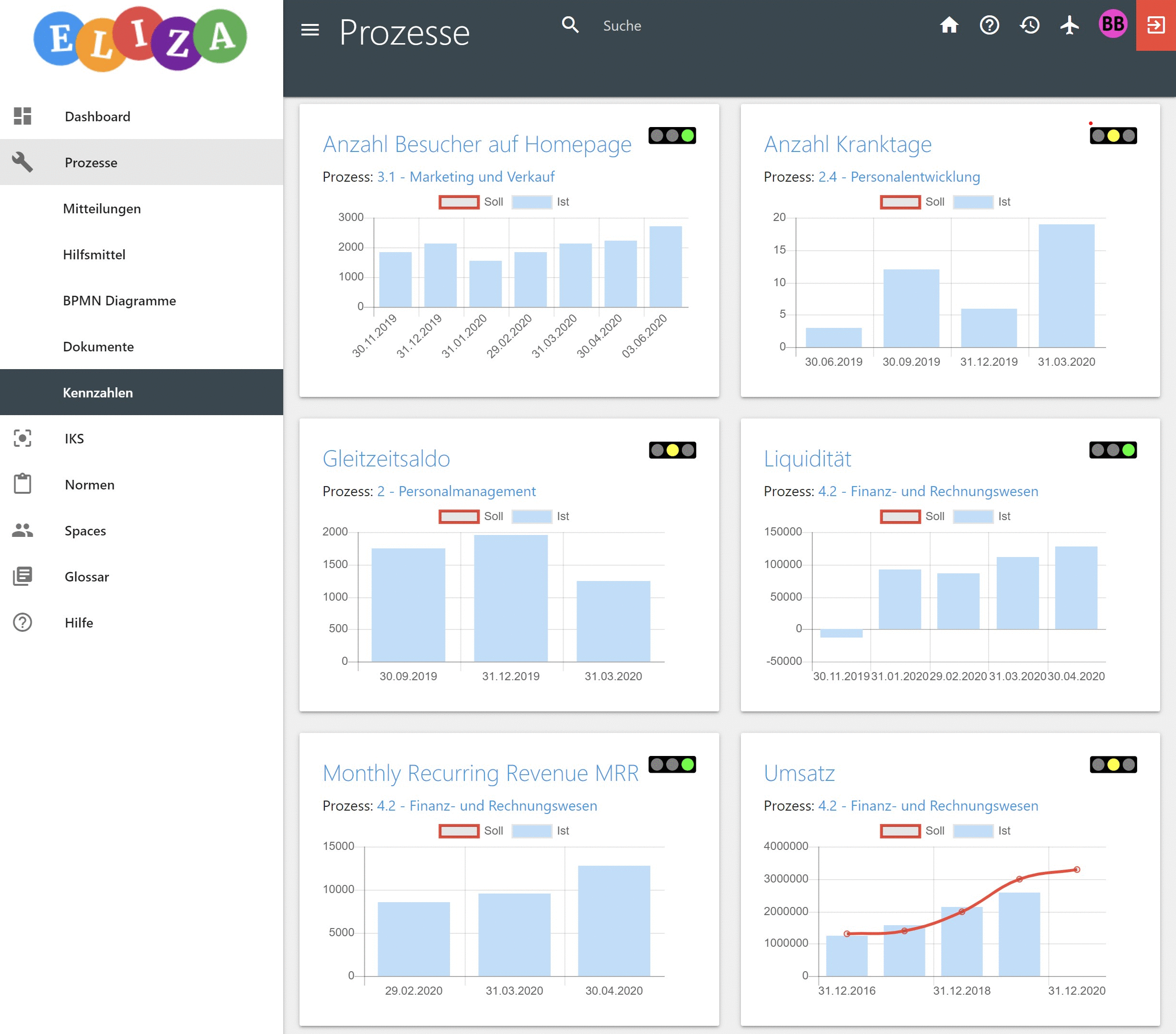 All key figures at a glance.
Wie kann ich einen Überblick über alle wichtigen Kennzahlen erhalten?
How can I get an overview of all important key figures? ELIZA gets to know you. All important key figures can be individually compiled.
Internal control system (ICS) and risk management - made simple and comprehensible.
What are my main risks and opportunities?
Risk management has never been so simple and clear. Instead of managing complex Excel spreadsheets, risks and opportunities can be managed simply, process-related and comprehensible.
Measures and controls can be recorded once or periodically and assigned to responsible persons. ELIZA never forgets anything and reminds you just in time of measures and controls that are due.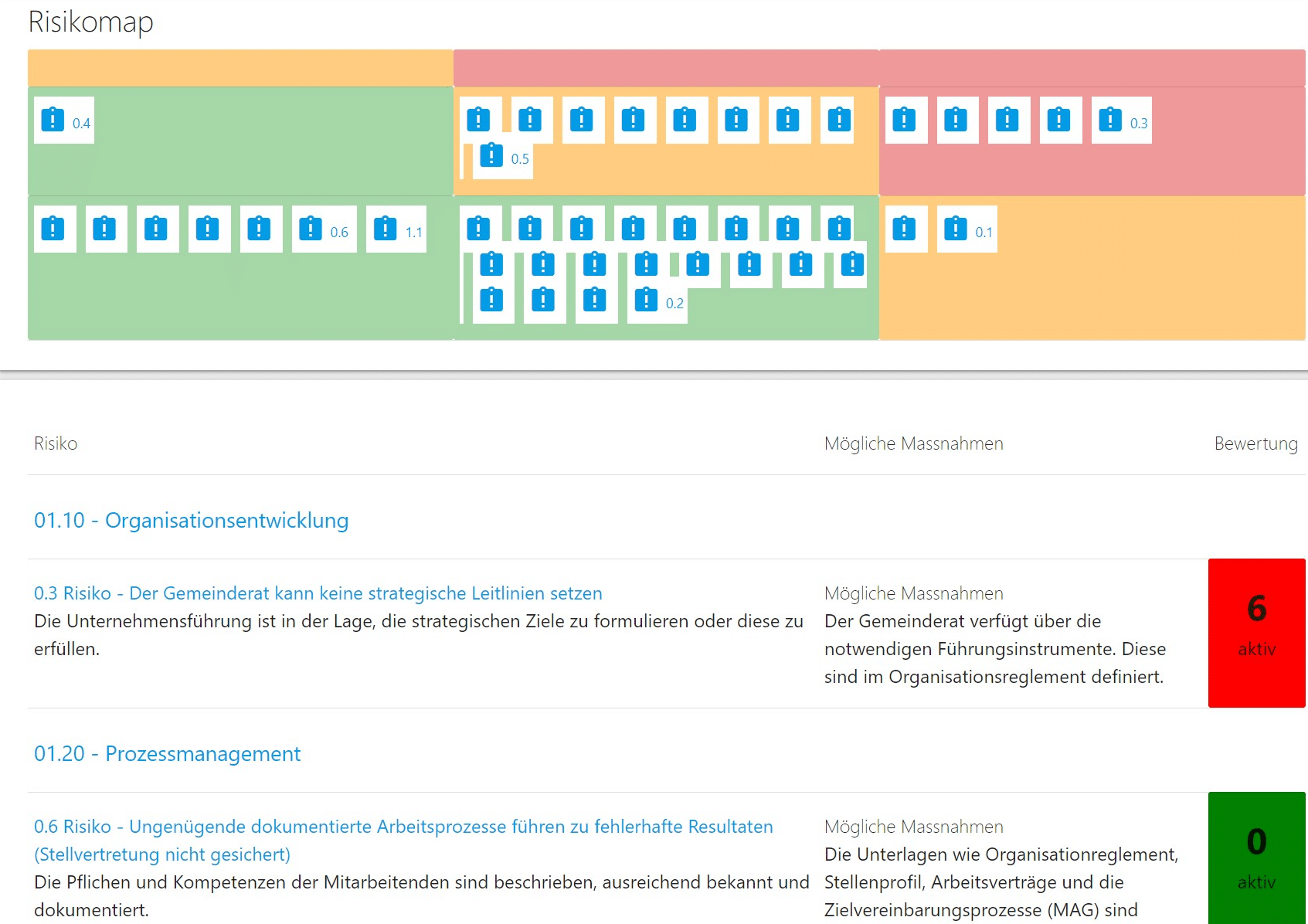 Lightning-fast full text search.
How do I find information quickly and reliably?
ELIZA has a lightning-fast search function. All contents in ELIZA are taken into account. The search results are displayed immediately as you type.
Adaptable thanks to integrations, interfaces and REST API.
ELIZA has been designed to have open interfaces. This means that ELIZA can be optimally integrated into your existing IT environment.
We master data exchange with numerous systems. Integration into an existing Microsoft environment (e.g. Azure Active Directory or Microsoft Dynamics Navision) is possible without any problems.
Which ELIZA suits me?
ELIZA is supplied in various prefabricated basic configurations:
For small and medium-sized enterprises (SME)
With ease to ISO 9001 certification.
Predefined process map
Setup according to ISO-9001 standard
Pre-defined protected workspaces for management and board of directors with meeting and task management
Risk and opportunity management
Template for idea management and continuous improvement
For boards of directors
Perfect as virtual board room and management cockpit
Online meeting management with minutes management
Secure online collaboration on strategic matters
Online risk management
Key figures at a glance
Enthusiastic customers are the key to our success