MEDIA RELEASE
Bern, April 2020
ELIZA is a new Swiss cloud solution for ICS, quality management and ISO-9001 documentation for organizations regardless of industry and size. The solution is developed by the Bern-based company ELIZA AG.
Use the Corona break for the documentation of your own company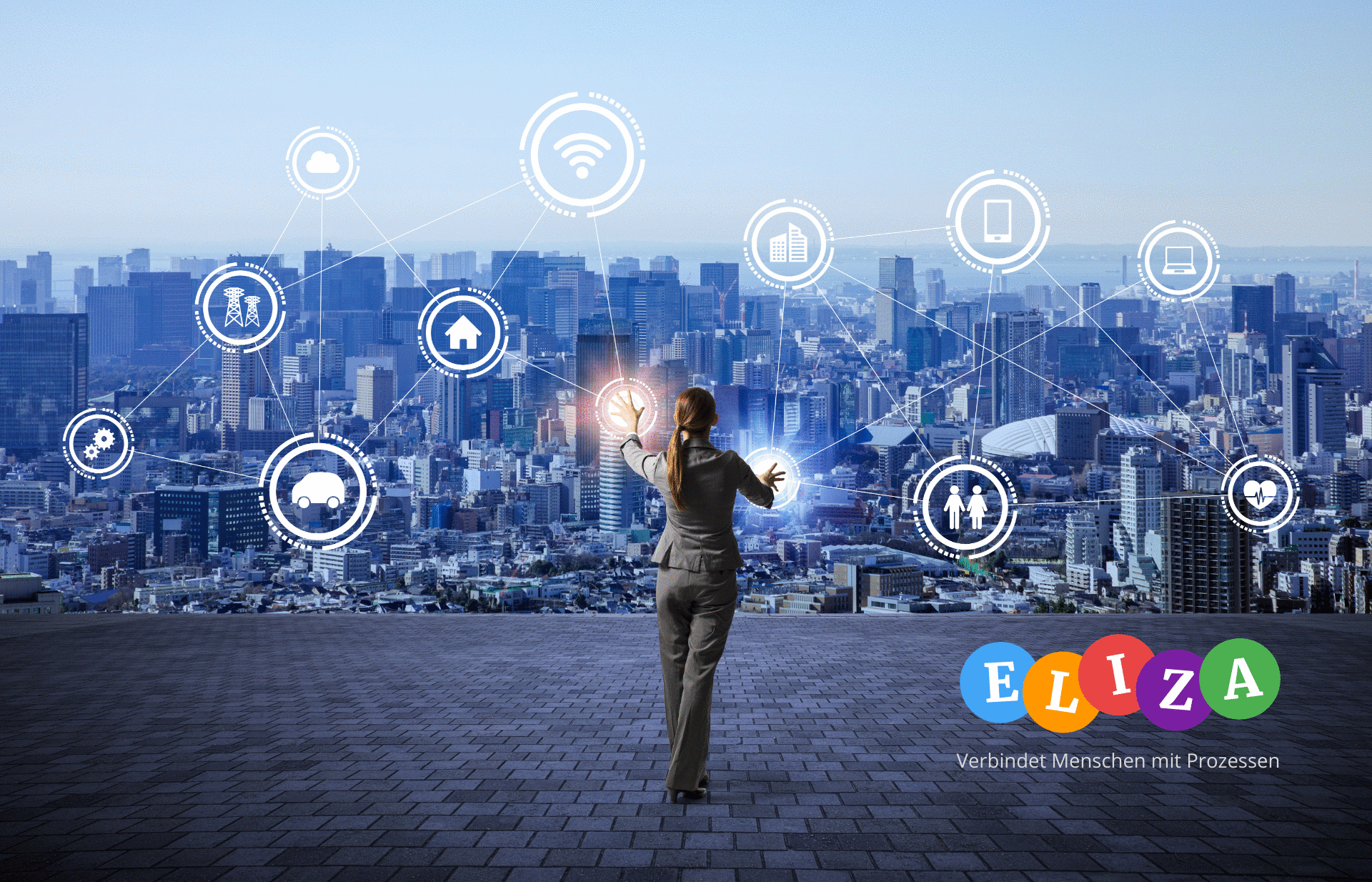 Many companies and organisations have been forced to reduce their activities. Sales will stagnate in the next 3-4 months. For CEOs and boards of directors there is now an opportunity to tackle or complete postponed projects such as the documentation of key business processes or the establishment of a management system with ICS and risk management.
ELIZA is a modern, web-based management system that was developed specifically to support SMEs. ELIZA supports managers and employees of SMEs in their daily work and provides an interactive knowledge platform. Executives can access the information they need more quickly and thus save valuable time in decision-making.
« With ELIZA, an SME can be documented within a very short time. Our customers can »go ahead without complicated training or introduction because the software is very easy and intuitive to use »

Bernhard Bühlmann, Managing Director and co-founder ELIZA AG
ELIZA replaces 100 Excel lists and Word documents
With ELIZA, a management system according to ISO-9001 can be represented completely. Numerous Excel and Word documents can be replaced by a modern, database-supported cloud solution. Employee lists, birthday lists, the function matrix or process descriptions can be created and managed completely online. A powerful full-text search finds any desired information within a very short time.
ELIZA saves valuable time: Adjustments only have to be made in one place. All links are automatically updated by ELIZA.
Important periodic work can also be stored at ELIZA as measures. In this way, important deadlinen never are missed again. Dr. Pascal Habegger, CEO 4teamwork AG and customer of ELIZA AG is enthusiastic about the new solution: "Thanks to ELIZA I finally have an overview of all employees, tasks, processes, projects and key figures. This makes me feel confident in my decisions and allows me to sleep more peacefully".
Integrated ICS (internal control system) and risk management
The integrated ICS module allows comprehensive risk management with process risks, project risks or contract risks. The risk map is created automatically. Measures and controls can be defined per risk. Automated ICS reporting allows the documentation of the risk history and all measures and controls for the external auditors.
The modular system convinces with its simple user interface
ELIZA has a modular structure. In addition to employee administration with organizational structure and functional descriptions, modules for process documentation, the internal control system ICS, risk management, contract management or project portfolio management are available. All modules are interlinked.
ELIZA is easy to use and can be used with desktops, tablets or smartphones.
ELIZA can be obtained as Software-as-a-Service directly from the Swiss cloud or installed on-premise in an existing company network.
Fit into the future
If a company is completely mapped in ELIZA, decisions can be made more accurately in the future and new employees can be trained more easily. An investment that pays off.
What does ELIZA cost?
ELIZA can be used as a SaaS solution in a subscription model from as little as CHF/€ 15.00 per user and month. You can find out more about the pricing model at eliza.awiss/pricing.
About ELIZA
ELIZA is the easy-to-use QM software from the Swiss Cloud and combines processes, organization, knowledge and Controlling (IKS) in a clearly arranged user interface.
ELIZA allows the documentation, measurement and monitoring of business processes in organizations and teams.
As a management cockpit with an integrated management system, ELIZA supports managers and employees as a daily routine in decision-making or by providing important information and key figures, which are otherwise cumbersomely requested in different systems.
A company-wide risk management system allows the definition, documentation and monitoring of risks in various areas (ICS risks, process risks, contract risks, project risks).
ELIZA is provided as a Swiss cloud solution for internal control systems (ICS), quality management, risk management and process documentation and can be used as Software-as-a-Service (SaaS) or integrated in your own IT environment.
ELIZA AG
Dr. Bernhard Bühlmann, CEO
Dammweg 9
3013 Bern
www.eliza.swiss


Over 100 Templates and Examples for GRC, Process- and Quality Management.